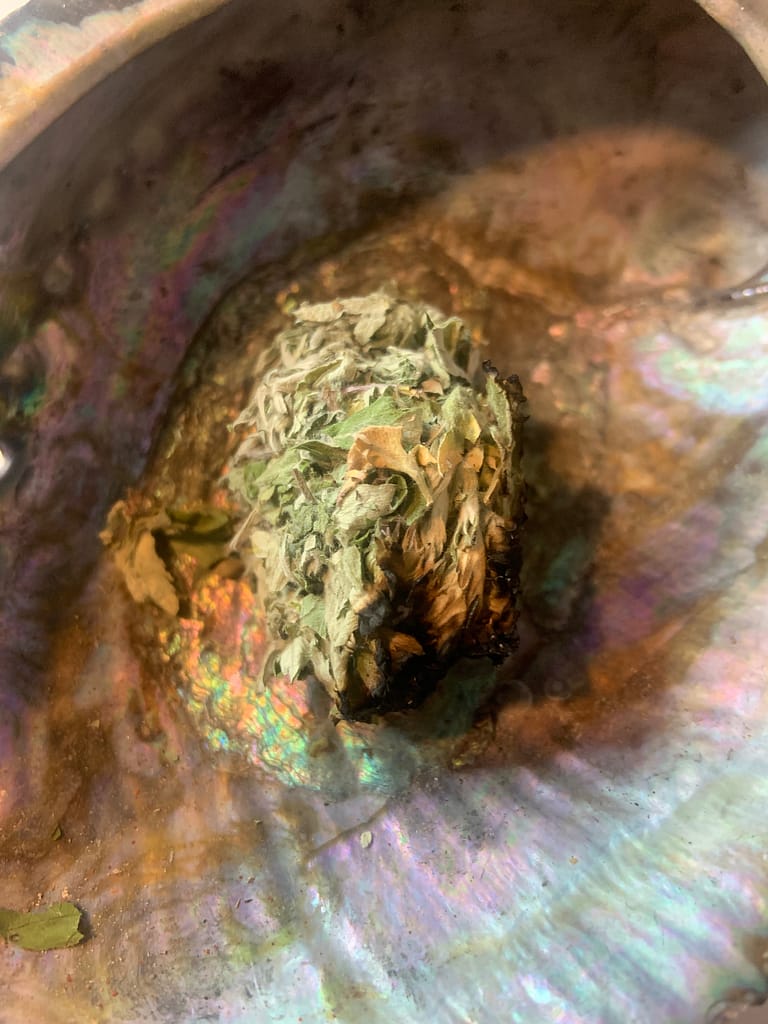 This is Sacred Korean Mugwort grown from seed by Song Bird Grand Mother for ceremonial and divination purposes. Grown in the outskirts of Denver Colorado near the foothills of the Rocky Mountains, this is her personal stash for ceremony, cleansing, and spiritual baths.
Mugwort is associated with the creation story of Korea. In the tale, a tiger and a bear lived together in a cave and prayed to the divine king Hwanung (the Son of Heaven and son to Hwanin) to be made human.[1]: 179  Hwanung heard their prayers and gave them 20 cloves of garlic, a bundle of mugwort and ordered them to stay out of the sunlight and eat only this food for 100 days. Due to hunger, the tiger left the cave after roughly 20 days, but the bear remained inside. After 21 days, she was transformed into a woman, and came to be known as the bear woman Ungnyeo.
Ungnyeo was grateful and made offerings to Hwanung. Her lack of a husband drove her to depression, and she began to pray beneath a sacred betula tree (Korean: 신단수; Hanja: 神檀樹) to be blessed with a child. Hwanung heard her prayers and was deeply moved. He took Ungnyeo as his wife and soon after, she gave birth to a son, Dangun, who would go on to found the first Korean Dynasty of Korea, Gojoseon (Joseon).
Korean Mugwort known as, "ssuk (쑥),(Artemisia Princeps) is a healing herb known for its antibacterial, anti-fungal, and cleansing properties. In Korean Shamanism, Ssuk is used to cleanse the air of negative energies, prepare the space for Divination, and enhance the dream time.
In Korean Shamanism, shamans use this sacred plant to pass between worlds and speak to spirits. This plant has psychoactive properties that allow shamans to transcend worlds.
How to use Ssuk (쑥):
*Burn before bedtime to enhance your dreamtime, and dream recall
*Burn throughout your house to cleanse the air and remove toxic energy
*Put into your bath for a spiritual bath
*Put into a linen bag and sleep with it under your pillow
*Put into your shoe for protection
*Place outside your door for Spiritual protection
*Place in your car for Spiritual Protection
Every order comes with a message from Spirit and a prayer bundle
for Spiritual Protection.
ONLY AVAILABLE TO LOWER 48 STATES OF AMERICA AT THIS TIME
Or
Pay via Cash App: $songbirdgrandmother
Venmo: @songbirdgrandmother
If you use venmo or cash app be sure to email songbirdgrandmother@gmail.com your address
*Due to the Customization and personal nature of these post cards,
all SALES ARE FINAL AND NON-RETURNABLE