Receive a spiritual blessing, and open the door to the ancient magic and Spirit world.
There are times in our lives when we can "do" everything we can and see now results.
This is because success only comes when we have two things working in our favor. The first is hard work and discipline. This is the energy of the heart, the masculine, the "yang," we must put forward effort to see results. However, hard work and discipline, can often lead to burn out. The worst experience is to work day in and day out, and see no results for all our hard work. This is often the "hamster wheel," that many people experience.
The second thing needed for success is "magic," also known as "opportunity," often times people will see lots of "opportunities" present themselves, but without hard work and discipline, opportunities will fall to the wayside, because we are not prepared for those opportunities. This "magic," is the unseen, the "Yin," or feminine energy, that complements, and flows the right people and right steps needed for guaranteed success.
Opportunities come from the Spirit World, and require, prayer, meditation, ceremony, and rituals to help them come into our lives. This is why every Shaman is trained in how to do these ancient ceremonies, rituals, and blessings to help others manifest their goals and dreams.
The following services are offerings for Love, Business, Health, House, & Spiritual growth. Using Candle Magic, Ancient prayers, rituals, and song, these services help you "manifest" those opportunities, and bring the Spirit World closer to you, to help you open doors that were previously closed.
New Moon & Full Moon Candle Blessings:
These candle blessings are done live via "TIKTOK," "YOUTUBE," AND INSTAGRAM LIVES every NEW MOON & FULL MOON. When Purchasing specify your name, birthdate, and what you would like a blessing for.
Each candle is specialized with oils and herbs that that moon, your specific purpose, and done live on the above social media platforms. If you cannot watch "live" you can rewatch the replays on instagram or YouTube.
New Moon or Full Moon Candle Blessing
$22.22
Buy now
Do you need a cleansing for your home?
Have you moved into a new home?
Are you a Realitor who cannot sell a house no matter what you do?
Feel the presence of unwanted energies?
Homes are sometimes built places they are not welcome. There are many nature spirits, ancestral spirits, underworld spirits, and vengeful spirits that can cause disturbances, that can cause:
*On going health problems that are mysterious
*Supernatural experiences like lights flashing, insomnia, constantly feeling the presence of others when no one is around,
*Dogs barking non-stop at the air usually around the same times
*Cats fluffing their tales scared for no reason,
*Dying tress and vegetation no matter how much you try to make them grow
*Constant relationship issues that were not present before you moved to this house
*Kids not thriving, getting sick constantly, not happy, having nightmares, or seeing things
*Having nightmares, depression and anxiety that never alleviates, but instead gets worst
*Trying to sell a house with no success–despite constant effort-little to no interest or house constantly falling out of escrow
*People stop wanting to visit your home, but will meet you in other places
*Mysterious things happening, like things constantly disappearing from where you originally put them,
These things and more can happen. For this house blessing, we will feed and clear the Spirits causing harm, restore harmony and balance the energies of your home, and discuss what to do to keep your house running smoothly. In certain cases there is more time and energy needed, so the price may vary.
If you Want to align to to the frequencies of good health, wealth, and protection, and need to remove the energies that are causing disruption.
This is a virtual ceremony where we will go through the foundations of your home, and invite blessings into your home through rituals, songs, and prayers.
When booking, send the address of your home, and picture for the ceremony.
Virtual House Blessing
$350.00
Buy now
Are you starting a new business?
Is your business stagnant, on the verge of closing?
Are you expanding and running into difficulties?
Are you ready to clear the stagnant energies, and serve more?
For business to succeed you have to have the spiritual meeting the physical. Opportunities are the backbone of every successful business. Money is a result of a service, product, or idea that serves people. It has to reach the right people who will take action to purchase. If your business is struggling, or you need spiritual power to push it off the ground, or to the next level a business blessing will help you:
*Get the spiritual power needed to keep pushing forward
*Help to bring in more clients and opportunities for prosperity
*Bring in the right people who will support, invest, and/or give you ideas to succeed
*Clear and heal the wounds that stop you from your business success
*Clear the unseen energies blocking your business-ie ancestors, underworld spirits, and spirits that cause you to stay stuck and stagnant
Schedule a business blessing. In this ceremony we will go into the foundations of your business, the best avenues to take, and invite blessings to come into your business.
We can schedule a time for us to connect and do an intuitive reading, and if you'd like to stay for the full ceremony you can, or you can continue with your business, as Song Bird Grand Mother closes the ceremony from her altar space. If you would like an in-person blessing, and are in the Denver Metro or Sedona area there maybe a possibility to schedule an in-person blessing. There is additional fees for travel and time.
Business Blessing Ceremony
$500.00
Buy now
Has your relationship went stale?
Feeling more like room mates than lovers?
Is there distance between you and your partner?
On a temporary break?
This love sweetening ceremony is a candle blessing using herbs and special candles (depending on your situation), to help sweeten your relationship. This is only for those who are in a relationship, have been together for longer than a month, and want to be together. If you are not currently in relationship, and just broke up, but want to sweeten the break-up, work on your problems, and bring in positive spiritual energies, this may be for you, but you will have to get a reading first to determine if this will work in your situation.
Remember rituals and blessings are about 20-40% of the work, but you are 60-80% of the rest of the work.
If you want your relationship to truly be sweet and flowing, you must do the everyday work on YOURSELF for this to work. If you are relying on manifestations, rituals, and ceremonies to do ALL the work, then they will not have the long lasting change and can be more detrimental than good. All love ceremonies are done at or around midnight when the couples are sleeping. It takes around 2-4 hours for the candles to fully burn out. For a longer ritual and more deeper work it will require more time, money, and energy.
This is why you need a reading first to determine how much energy is required to sweeten your relationship. You will receive a zoom video of your ceremony and watch your candle burn. This ceremony is best done when both parties are sleeping, so it can work on the deeper subconscious/unconscious levels. Please schedule your time after ceremony to book your next steps, and how best to maximize the energies going forward.
To add extra power to your ritual add a spiritual bath and love ritual kit that will have a specially created salt bath to improve attraction, cleanse the past, and protect your relationship from outside influences, you will get a special heart shaped candle, attraction/sweetening oil, and healing necklace with Chimayo Healing dirt to help you heal the wounds in yourself and relationship. To book session email: songbirdgrandmother@gmail.com If you are requesting to reunite and have your partner "come back" then you will need to send a picture to this email of your partner, with his full name, and birthdate. You will also need to include your full name and birthdate. If you are adding a "Spiritual Bath and Love Ritual Kit" then please send your address as well.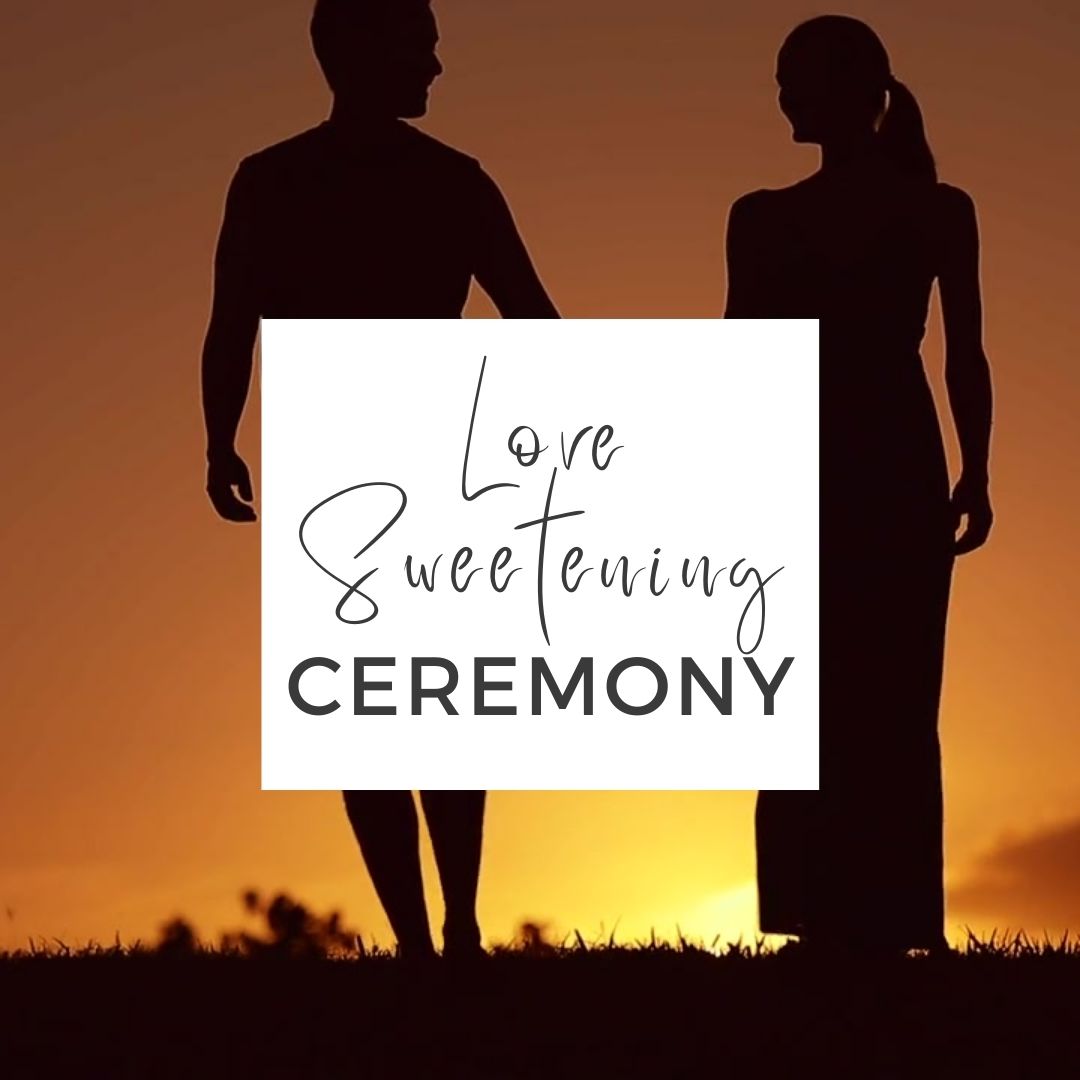 Virtual Love Sweetening Ceremony
$400.00
Buy now
Love Ritual Ceremony Kit
$111.00
Buy now
I cannot even begin to explain the feeling I encountered in my dream last night. It was beyond love. It was the purest form of love. It was so beautiful. I wish everyone would have bought a candle blessing, we need this so bad right now."